Inflammation could be a key mechanism behind the well-accepted adverse associations between cigarette smoking and multiple sclerosis (MS), a new review of the evidence suggests.
Cigarette smoking triggers lung irritation, which in turn causes inflammation that can progress to the autoimmunity driving central nervous system (CNS) demyelination in MS, researchers note, particularly among those who are genetically susceptible.
They also found that e-cigarettes could contribute to MS disease activity, progression, and MRI changes, although more data are needed.
The "take home message" is that "smoking worsens MS disease severity and progression," Tanuja Chitnis, MD, of the Partners Multiple Sclerosis Center, Department of Neurology, Brigham and Women's Hospital and Harvard Medical School, Boston, Massachusetts, told Medscape Medical News.
Because smoking is a modifiable risk factor, "having MS patients stop smoking can improve outcomes," Chitnis added.
The study was published online December 16 in JAMA Neurology.
Cigarette smoking is among the most important environmental factors contributing to risk, in addition to Epstein-Barr virus infections, vitamin D deficiency, and obesity, the researchers note.
"In MS, we have concrete evidence that smoking worsens disability and brain atrophy," Chitnis said. Prior research also supports a worse long-term prognosis from smoking for people with MS.
In addition, studies in the literature point to a dose-dependent effect, linking more frequent and longer smoking duration to worse MS disease course and outcomes.
Filtering the Evidence
Along with coauthor Mattia Rosso, MD, Chitnis reviewed studies published between 1965 and 2018. In the study, after exclusions, they included five major studies assessing cigarette smoking and disease activity; another five studies linking smoking with MS progression; and seven evaluating associated changes on MRI.
Interestingly, they also identified five studies where researchers assessed  associations between passive smoking exposure and MS parameters. Although some research pointed to increased risk from both active and passive smoking and others pointed to a dose response relationship with passive smoking, Chitnis and Rosso noted the findings have yet to be replicated.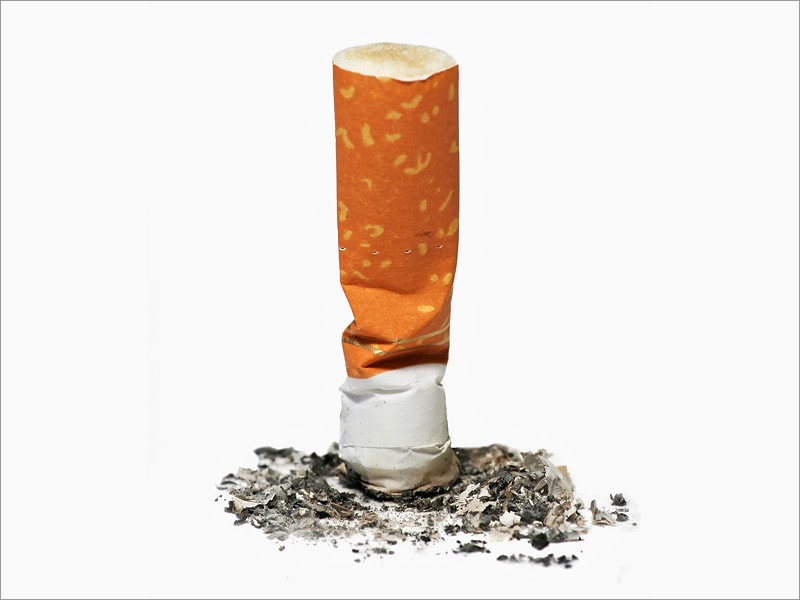 The pathway connecting smoking and MS likely features two sequential events. After smoking creates an inflammatory environment, lymphocytes become activated. Although beneficial in the short term, macrophage activity can shift to proinflammatory over time.
The investigators propose that the next step involves breakdown of the blood–brain barrier, allowing immune cells to enter the central nervous system and causing the demyelination characteristic of MS.
Cigarette smoking was associated with increased MS disease activity in studies incorporating MRI findings. This evidence specifically demonstrated the appearance of new lesions. "The overall consensus is that smoking is associated with greater MRI lesion loads, even in the earliest phases of the disease," the researchers note.
Interestingly, the evidence does not support a link between chewing tobacco and worse MS outcomes. Furthermore, nicotine is not the bad actor here. The authors note, "nicotine does not appear to play any pathogenic role in MS."
The link between lung irritation and autoimmunity also is found in conditions outside of MS, such as rheumatoid arthritis. These findings reinforce lung irritation as the primary pathway to autoimmunity.
Age and Genetics Could Contribute
Chitnis and Rosso also found the link between cigarette smoking and MS onset and progression was inconsistent. Older patients were more likely to experience adverse effects of smoking than younger counterparts with MS, the evidence suggests.
In addition, genetic factors could modify the risks. For example, apolipoprotein E4-positive study participants featured lower rates of disability compared with nonsmoking controls.
Although age and genetics are not modifiable risk factors, smoking can be. "Smoking cessation decreases future risk of MS progression and accrual of disability burden," the authors note. The disability burden in ex-smokers reverts to a nonsmoker level within 5 years of smoking cessation, irrespective of the cumulative exposure to smoking, they add.
There is no evidence to suggest electronic cigarettes are safer than regular cigarettes for people with MS, the authors note. An unanswered question is whether the heating of the vapor for e-cigarettes is just as risky as the lighting of tobacco. More research is warranted, they added, particularly given the growing popularity of e-cigarettes.
Future studies could evaluate any association between smoking and MS relapse rates, contribute more evidence regarding passive smoking and e-cigarettes, and provide further data on genetic influences.
"We would like to better understand the mechanisms by which smoking worsens MS and to identify optimal strategies to help MS patients quit smoking," Chitnis said.
"Really Nice Job"
"This paper does a really nice job of trying to help readers understand the immunologic mechanism that might be behind the problems with inhaled smoke," Kathleen Costello, ANP-BC, MSCN, associate vice president of health care access at the National Multiple Sclerosis Society, told Medscape Medical News when asked to comment.
They identify the lung as the area of interest in the way that irritants of smoking and the particulate matter cause the immune system to respond.
In addition to pointing out that lung irritation is the primary trigger, the researchers also note that pollution, solvents, and other environmental factors could play a role, added Costello, who is also adjunct assistant professor at the Johns Hopkins Multiple Sclerosis Center in Baltimore, Maryland.
"There are a lot of lung irritants out there that could be contributing to overall risk," she said. "It's really a very interesting paper."
"Does this mean all people who smoke will get MS? No," Costello said. "But people who have that [genetic] susceptibility and can stop smoking can reduce their risk for developing MS, or if they have MS, can prevent it from getting worse.
The study had no specific funding. Chitnis, Rosso, and Costello have disclosed no relevant financial relationships.
JAMA Neurol. Published online December 16, 2019. Abstract